Pick up your ticket!
1 - Log onto www.mshop.lu.

2 - Buy the tickets or the services (mBox, P+R) you require. You can pay online, it's totally secure.

3 - The following day you can collect what you've purchased from a validation and information terminal located on railway platforms and at some bus stops and identifiable by the "Pick Up" symbol

(see map of Pick Up Stations below).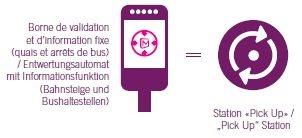 4 - Should your mKaart get lost or stolen, you can either call us at +352 2465 2465 or write us a message by using our contact form and we'll immediately block your mKaart.


Map of Pick Up Stations:
Additional links & documents::